By Wendy Martin
One of my earliest memories is sitting at the front of my parent's Zodiac boat in a tiny lawn chair, zipping along the Gulf of Alaska to find that perfect fishing hole. I was about 6 years old and I loved every minute of it. With the salty air spraying me in the face and the smell of old fish scales at the bottom of the boat, I would scan the shore for bear and moose. I think of this memory often and smile to myself.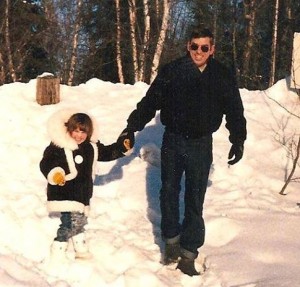 When I was older, my parents admitted to me that I was actually tied to the lawn chair, and that the lawn chair was secured to the boat, and that I was only up there to weigh the bow of the boat down. Still, I had fun.
My mother is third generation Alaskan, and she taught me all I needed to know about fishing. Whether it was king or sockeye salmon, halibut or trout, my Mom knew how to catch, cook, and clean it all. I'm so thankful that my Mom taught me to love, respect, and protect the outdoors.
Here are two of her favorite recipes:
Parmesan Halibut
1/3 c. grated Parmesan cheese
3 tbsp. flour
3 tbsp. butter or margarine
2 tbsp. parsley, chopped
1.5 lbs. halibut steaks or fillets (this will also work with other white fish) cut into serving size portions
Combine cheese and flour. Dip halibut in the mixture and sauté in butter until fish flakes when tested with a fork. Remove halibut from frying pan and place on platter. Pour the drippings over fish and sprinkle with parsley. Makes 4 servings. (This recipe was a favorite at the Governor's House when Steve Cowper was in office. It was often served with Salmon Mousse, Wild Rice Pilaf, Steamed Broccoli, and Lemon Ice.)
Halibut Alyeska (Alyeska is an archaic spelling of the Aleut word Alaska meaning "mainland", "great country", or "great land" )
Halibut, boned and chunked for 4 (this, too, will work with other white fish)
1 c. sour cream
1 c. mayonnaise
2 tbsp. chopped onion
3 tbsp. lemon juice
Salt and pepper
1 c. grated Cheddar
Mix sour cream, mayonnaise, onion, lemon juice, salt and pepper. Pour over halibut, sprinkle with cheese. Bake at 375 degrees for 25 minutes.
________________________________________________________________________________________________________________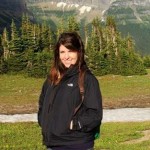 Wendy is the administrative assistant to the Director of State and Local Affairs for the National Rifle Association's Institute for Legislative Action in Fairfax, VA. NRA-ILA is committed to preserving the right of all law-abiding individuals to purchase, possess and use firearms lawfully as guaranteed by the Second Amendment. She lives in Manassas, VA with her boyfriend and three dogs.