By Jenn Doherty
I found myself belly-crawling through prickly-pear cactus in hot pursuit of some antelope. I would quickly get in front of my husband, Mitch, before he would remind me that this was his hunt and I should get my own tag if I want to be the one with the gun. I thought about it for a while and decided he might just be right. After all, what was holding me back? I had gone through adult hunter's safety and was comfortable carrying a gun in the field.
I didn't grow up hunting. It was certainly all around me while growing up in a state Aldo Leopold called home for many years, but my family was not a hunting family. Instead I enjoyed hiking, backpacking, canoeing and other activities growing up, along with an instilled respect and appreciation for the outdoors. I got into bird hunting with Mitch after several years of residency in Montana. A good bird dog made it fun and afforded me some extra weekends with my husband before he headed to the woods rarely to be seen until big game season wrapped up. That all changed the weekend my husband and I camped on the Rocky Mountain Front to enjoy some antelope hunting in the mornings and bird hunting by afternoon. It wasn't the first time that I tagged along on one of my husband's hunts, but I was looking through a different lens this time.
I managed to draw a tag in a district that Mitch and his hunting partners classified as a 'guarentee'. As soon as he said 'guarentee' I quickly felt my competitive side kick in – I can't break their success streak! My second thought was that I better put the shotgun away and get to the range with a rifle. I spent many lunch hours at the range with my husband. That meant making up for the practice time at night or with longer days to keep up with my busy schedule at work while still enjoying quality times with my kids. Mitch never shot once during those weeks; he simply coached me. I also looked into the Landowner Stewardship Project, which is a program developed by Montana Fish Wildlife and Parks to promote responsible hunting and good relations with private landowners who might consider allowing some access – it's a win-win for private landowners and hunters.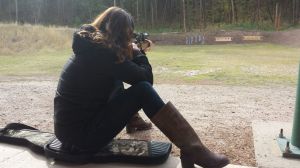 I didn't take my chance at hunting lightly. Anytime away from my 3-year-old and 6-month old is something I consider with great care. In this case, I got to maximize some much needed quality time with my husband, in a wall tent by night and watching the sunrise each morning.
Okay, honestly, it wasn't too hard of a decision. My two and a half days of hunting came quick, and I found myself in the field stalking antelope in "district guarantee." Although it wasn't such a guarantee when we quickly realized that other hunters had found the spot we had scouted and planned to hunt there too. I made two attempts to gain access on private lands to no avail. This wasn't an area I knew any private ranchers and we had planned to hunt on the few state and BLM lands in my district. On the final day a lone buck walked into my line of sight as I crept along a fenceline. We had just spooked a few antelope and I had straightened my back and began to cover some distance when he ducked under the fence and walked onto public land 150 yards in front of me. I instantly dropped to the ground and got him in the gun's sights before taking the shot.
I was grateful for that small buck, the time spent in the field with Mitch, and for the experience. Accessibility to public lands is critical to carrying on the tradition of hunting and maintaining healthy wildlife populations. I applaud private landowners willing to allow voluntary access even though it didn't work out for me this time. I also applaud that little buck for his choice to walk onto public lands that morning!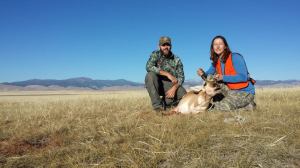 Going through hunter's safety or a Becoming an Outdoors Woman course is the start of something great. However, finding a hunting partner or mentor can be a struggle. I'm grateful for Mitch's patience and generosity with his time and hope that in the future it gets easier for new hunters to network with other hunters and get into the field.
Jenn Doherty has worked to protect wild places and public access at a National Conservation Organization since 2004. She lives in the heart of both epic outdoor opportunities and a rapidly changing landscape. In addition to hunting, she enjoys hiking, camping, rafting, sewing, swimming and skiing with her husband Mitch, two children Gillian & Donovan and their trusty griffon Scruggs.