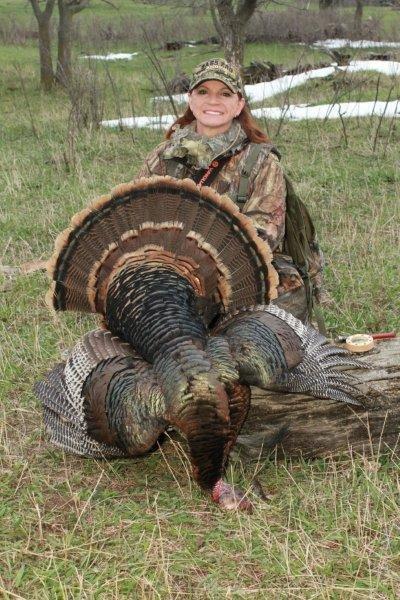 To celebrate President's Day we're talking to a legend in the sportsmen and women community, Brenda Valentine aka the First Lady of Hunting ®.
Brenda is often credited with starting the current women's hunting movement and directly responsible for recruiting more women into hunting than anyone in modern history. Brenda grew up in a family where wild game was the primary table fare and good hunting/shooting skills were learned at an early age. The lessons of woodsmanship, animal behavior, and handling a firearm that once provided meat for the table were also building a firm foundation for Brenda to become a respected leader and a role model in today's world of hunting and conservation.
Camo is the New Black: First, and foremost, thank you so much to agreeing to do this. We are truly honored to have you on CITNB and really appreciate your support. So let's get started – how did you get into hunting?
Brenda Valentine: I was born into a very rural family that lived off the land. My parents hunted for both meat and hides. We raised and trained hunting dogs. Hunting was our way of life in addition to our sustenance and income. I was competent with a .22 rifle long before I lost my front baby teeth.
CITNB: How were you coined the "First Lady of Hunting?
BV: Many years ago I was introduced as such by a radio announcer. I asked him why he called me that and his reply was that I was the first woman hunter in recent history to be recognized and accepted as an equal in a predominately male world. The title stuck and before long it seemed everywhere I went someone referred to me by that moniker. Later, I had it registered and it has been trademarked in my name for almost 20 years.
CITNB: What's your favorite animal to hunt and why?
BV: Oh, there are so many that I really enjoy it is hard to choose just one. I will always love hunting whitetail in the winter but I am equally as crazy about hunting turkey in the spring. Of course I really yearn to chase bugling elk in the fall and by mid-summer I'm dreaming of all the many species in Africa. I suppose the truthful answer would be that my favorite is according to what season it is but I really love hunting the turkey and deer we have here in TN.
CITNB: Many of our readers got into hunting for the most locally sourced food. Do you have a favorite recipe?
BV: I know there is a huge movement for locally sourced food but this is old stuff for many of us country folks. I was raised on homegrown garden vegetables and small game/fish such as squirrels, rabbits, bullfrogs, catfish, raccoon and groundhog. When my daughters were young we subsisted almost entirely on venison. They were both in school before they realized meat was sold in stores and that corn wasn't always packaged in a shuck. Thankfully, my entire family has continued to eat close to home. We process several deer and many wild turkeys each year which includes canning, grinding and freezing meat to share and enjoy till the next hunting season. I have my own flock of chickens for free-range eggs and fresh poultry. We grow a large garden and preserve all kinds of fruits, berries and vegetables throughout the summer. My recipes are much the same as anyone else might use except I use game meat. When hunting for my own kitchen I select prime game the same as others might buy cuts of prime beef. Much care is taken both in the field and in the processing to assure safe, wholesome and a tasty product for the table.
As for a recipe, nothing beats the convenience of having home canned turkey or deer meat on the shelf for a quick supper. The pressure processing assures the meat is thoroughly cooked so all that is needed is a quick warm-up and served over noodles with a salad or vegetable for a quick nutritious meal after a hectic work day.
CITNB: How did you become the National Spokesperson for the National Wild Turkey Federation?
BV: I don't know the process by which I was selected. I was asked to be a National Spokesperson 5-1/2 years ago by NWTF CEO, George Thornton. It has been one of the most enjoyable roles I have had the honor of filling.
CITNB: What's your favorite part about this role?
BV: The wonderful people I come in contact with on a daily basis is by far the best part of being a National Spokesperson. This position also allows me to share my passion of hunting and conservation while teaching their vital importance for the future to many newcomers to the outdoors.
CITNB: The National Shooting Sports Foundation recently released a study that shows women hunters have increased 85% from 2001 to 2013 – what do you think is responsible for this increase?
BV: The public awareness of genuine women hunters and conservation leaders such as Becky Humphries (Chief Conservation Officer of NWTF) and myself has opened doors and changed attitudes about women taking to the field and in leadership positions. Programs such as NWTF's Women In The Outdoors, has given thousands of ladies the skills and confidence to take that first independent step outdoors. Of course marketing plays into this sharp increase also, the female market had been practically untouched as long as hunting was viewed a primarily male domain. But with a huge piece of the market share of hunting clothing and accessories now being bought by women, it is only fair to say more women will be used in advertising campaigns and so the public awareness will continue to grow. The real plus side of all this is the voting power this sharp increase of women hunters bring to the polls to protect hunting rights now and in the future.
CITNB: Despite the increase of female hunters, fewer and fewer Americans have a connection to hunting through their family and friends. How do you convince those people that hunting is an activity worth taking up?
BV: I don't know that talking convinces many people of anything so I try to teach by example. I have spent the better part of a lifetime sharing my hunts and other outdoor experiences with new or non-hunters be they women, kids or men. I've never had one that didn't comment the experience made an impact on their life and change their views of hunting.
CITNB: What advice would you give to a woman who is just learning to hunt?
BV: Do it for yourself and not to please anyone else. Know that hunting is a vital part of conservation and each hunter has a role in assuring the future well being of wildlife. Relish the feeling of knowing you are capable of feeding yourself and others the most natural and healthy food available.
CITNB: Thank you Brenda for this very special opportunity to get to know you a little better. We are thankful you've helped pave the way to truly making camo the new black!
More about Brenda Valentine:
Brenda is the current national spokesperson for the National Wild Turkey Federation and a 18-year veteran member of Bass Pro Shops National RedHead Pro Hunting Team. She is a longtime member of the Mossy Oak/Biologic elite staff as well as a dedicated staff person for Hunters Safety Systems. A few highlights of her long list of accomplishments and involvements are: National Champion 3-D Archer, Co-Host of Bass Pro's King of Bucks TV, first female inductee in the Outdoor Legends Hall of Fame, only inductee in the Henry Co. Sports Hall of Fame for a shooting sport. Brenda has served on the BOD of Pope and Young Conservation and National Bowhunter Education Foundation. She is presently an honorary member of the NWTF Foundation board. She has been a Hunter Education Instructor for many years. In 2012 Brenda was inducted to the TN Turkey Hunters Hall of Fame and she was selected by Department of Defense & Armed Forces Entertainment to represent the hunting industry in the Outdoor Legends II tour to Afghanistan, Germany and SE Asia 2012. She implemented and coached a competitive archery team at Bethel University.
Brenda's has been published in almost every major outdoor publication, in addition to a book she has written about her hunting experiences. She has won numerous national awards for her writing. Brenda has been featured on the front page of the Wall Street Journal. She has hosted and helped produce numerous award winning TV programs. Her hunting adventures have taken her from the top of Alaska to the tip of Africa. She is the only woman on record to successful take a Cape Buffalo bull with 1 arrow. Brenda continues to travel the world spreading the message about ethical hunting, gun rights, and conservation but her heart will always be close to her roots back home in Henry County, TN with her family and farm.