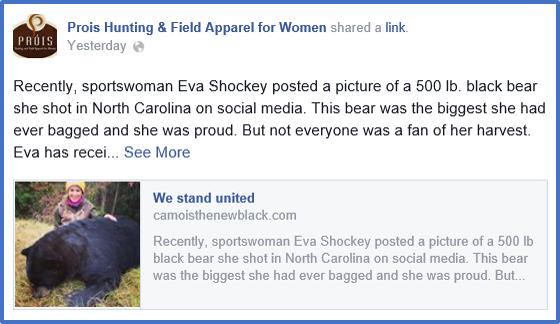 We're over 100 signatures on the petition to support Eva Shockey and hunters across the country and we're excited about it! Eva has taken notice by retweeting and we are pleased to have the support of Prois Hunting & Field Apparel for Women and Huntress View!
Thank you to everyone who has already signed on and if you haven't it's not too late!! Please help us keep up the momentum and share the petition with family and friends – happy Friday sportsmen and women!! Here's the petition language:
"On behalf of sportsmen and women from across the United States, thank you Eva Shockey for continuing to educate the public about what it means to be a hunter. Like you, we are conservationists who enjoy getting outside and harvesting our own dinner. Like you, we pay license fees and excise taxes on hunting, fishing and shooting equipment that contribute over $3 billion to conservation each year. Like you, we are ambassadors for hunting and fishing and work to pass our hunting and fishing heritage from generation to generation.
Please keep fighting the good fight, Eva, and know we stand united in support."