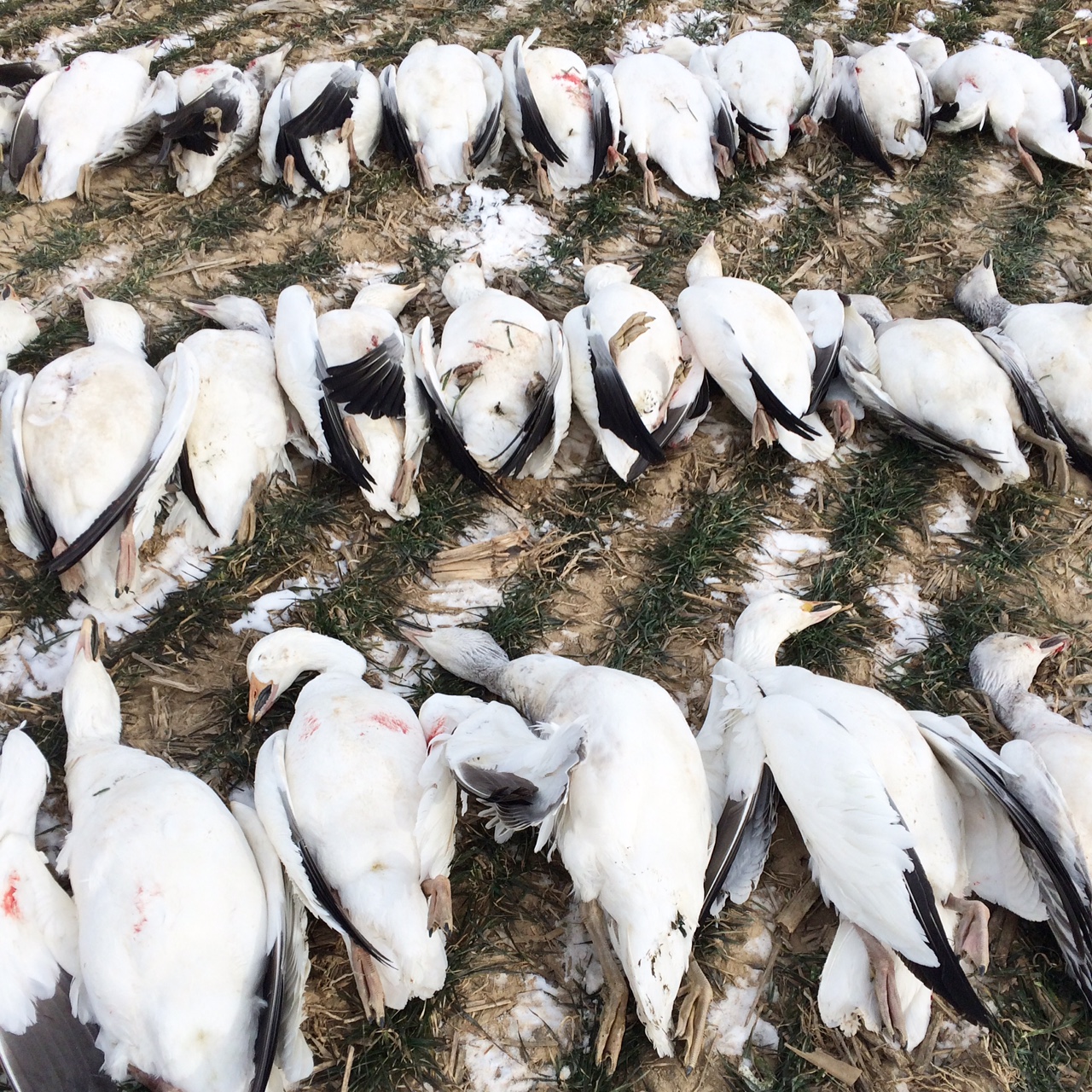 Moving to D.C. from Montana was a tough adjustment. Not only are there more people in the metro area than my entire state but our yard is the size of a postage stamp and we're lucky because we have green space! How was I supposed to survive without the outdoors? Could this place of concrete and marble really become home?
After learning some of the best waterfowling in the country takes place on the Chesapeake Bay, I was more than willing to make the hour drive to get in the duck blind. Since my inaugural east coast hunt six years ago, I have had many days in the blind but nothing compares to my snow goose hunt this year.
My alarm went off at 4:30 AM, I kissed my husband and lab, pulled on my warmest layers, triple checked I had a ten pack of hand warmers and jumped into my Mini. Leaving the city behind, all I could think about was last year's snow goose hunt. We had gotten skunked after being in the field over six hours on a rare below zero day. Sure, it was frustrating but the ten other guys in the blind and I enjoyed every minute – swapping stories of other hunts over goose jerky from the previous season. And me educating them about the merits of hand warmers. (Note: they all use them now!!)
But this day was even colder. I met my best friend at the local sporting goods store a little past 5:00 AM, ditched the Mini to carpool in his truck and we drove another 40 minutes to our rendezvous point with the other hunters.
In total, we were only 10 but the field was covered in decoys. Donning white painter suits, we laid down on the ground in a line. The quiet in the dark heightened every sense, the cold air sharply pierced my lungs and my ears perked for the faint fowl calls. No sirens, no city sounds – I was at peace.
As the light slowly began to fill the sky and I heard the feathered beat of wings begin to circle overhead – I was in awe. The geese patterned across the sky in thousands like strings of pearls slowly becoming unstrung. 20 landed in our decoys and we waited. I made eye contact with one bird as she strut past me. 1, 2, 3, 4, 5, 6, 7, 8, 9, 10… we sat up and took our first toll. 33 birds! We cheered and fist pumped!
Later that morning, I drove back to the city, breasted out the geese and as a neighbor asked what we were having for dinner, my eyes gleamed with pride as I said snow goose and watched their confused reaction. Although I may be in the city, my Montana roots are alive and well.
Whitney is the Co-Founder of Camo is the New Black, check out her video of this incredible hunt here.