Happy happy Father's Day!! Father's Day is a day to celebrate dads all across the world. Deceased and living, dads everywhere have helped their daughters get into hunting and fishing. Today we are thankful and hope you spend some extra time with your papa. Yes, not all of us have come to hunting and fishing through our dads but many of us have and men continue to be extremely important in helping increasing the number of women who hunt and fish.
In honor of Father's Day… here's one of our favorite dad stories from 2014.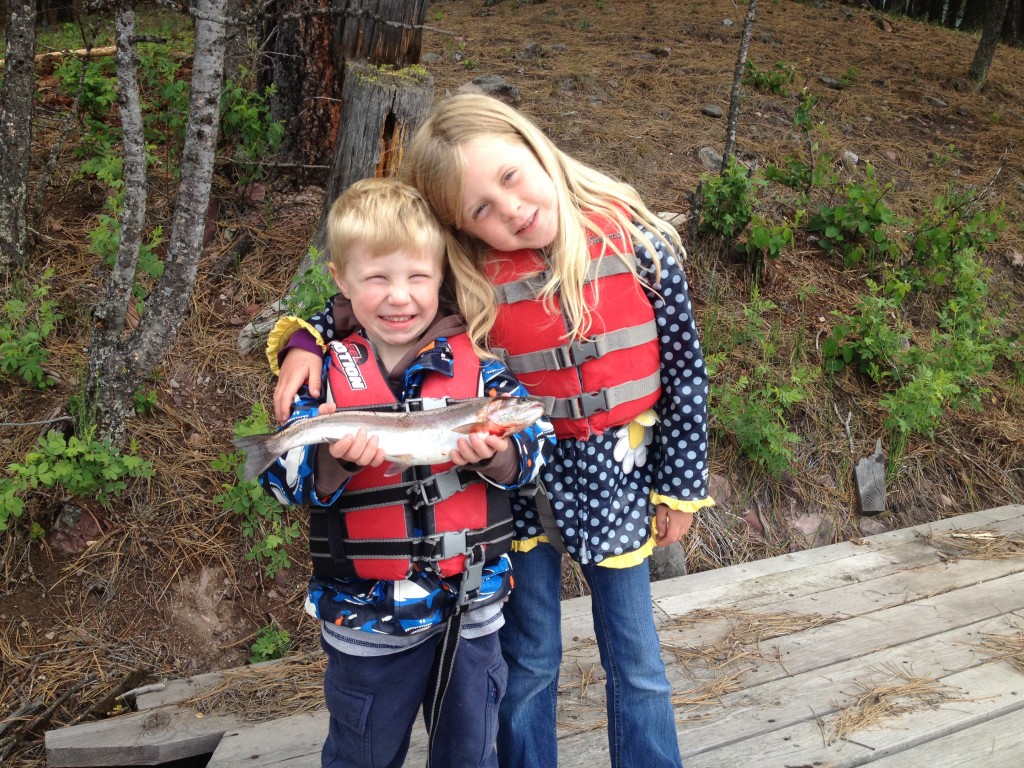 The Privilege
By Land Tawney
The sky was blue, sun was hot, and water was clear. I could see the rainbow colored Rapala lure working to perfection five feet below the surface of the water and then it happen. A big juicy trout gave chase and in an instant attacked with veracity. The line went taught and the fight began, the mighty fish was played to perfection, reeled to the dock and deftly guided into the net. Cidney had caught her first fish! When I asked her if she wanted to "keep it or put it back," she exclaimed beaming with pride, "eat it Dad!"
As a young kid, I remember yearly, week long sojourns to the Bighole River in southwest Montana, timed to perfection at the peak of the salmon fly hatch. The fish were hungry and budding anglers could catch. Dad showed patience and we learned.
I remember arriving in the darkness of night, pushing birds off the water in a thunderous eruption of wing beats, listening to the gentle splash of decoys, the melodious sounds of duck calls enticing our quarry, and then watching our trusty lab perform. I was armed with a BB gun with no chance to harvest my own bird but it didn't matter.
I remember cold snowy mornings, trudging up steep mountains, trying my best to step in the footprints ahead of me, as to exert as least energy as possible. The crack of the rifle and riding elk quarters like sleds back down to and glowing cabin.
A constant throughout these adventures was my father. I remember the first deer I shot and the blood he wiped on my cheeks as a sign of respect for the animal and my arrival as a hunter. These moments are etched deep in my psyche and I don't think I ever gave it a thought on how profound these experiences afield would be. As I look back with fondness, these are the memories that I choose to remember about my father. These are the memories that have driven me to work in the field of conservation.
I have the privilege of passing on some of these same experiences to my five year old daughter, Cidney, and three year old son, Colin. The excitement in these kid's eyes when they get to see and sometimes hold wild creatures is palpable. They are not just observers of nature but participants to the fullest extent of the word. This past fall Cidney accompanied me on several duck hunts and both kids helped clean birds in the back of the truck. Fresh duck is enjoyed by all at the Tawney household.
Recently, a coworker gave me some song birds she had in the freezer. The birds met their deaths as a result of untimely meetings with window panes. What they became was teaching tools for my inquisitive young children. First, they observed how light they were and learned about birds hollow bones, how small their features were, how their wings worked and ultimately how beautiful and different they were. Next we poured over our field guide, looking for clues to identify these fine creatures. That Western Manager…I mean Tanager and Yellow Rumped Warlber helped inspire drawings and more questions. My favorite inquiry was, "can we eat them?"
I almost screwed up that fateful day on the dock when Cid caught her first fish. I was so excited in anticipation of "the first" that I tripped over the net as I rushed to see it all happen. Luckily the fish was hungry and caught Cidney. That's right, the fish caught her and she is now hooked for life. My budding conservationist has vowed that this summer she is going to have a lemonade stand and half of the proceeds will go to a new swing set and the other half to wild animals so that others can share the same experiences that she has. That hungry rainbow trout and countless other outdoor interactions have driven her to think about more than just herself. From an appreciation of nature comes an understanding and great responsibility to conserve wildlife for future generations. Our lives are enriched, habitats cleaner, water fresher and air more breathable.
This past weekend, we worked on just that. We caught a dozen trout, rainbows and brookies, and kept two for dinner. Fresh trout never tasted so good.
Land has worked in the sportsmen conservation field for 15 years advocating on behalf of access, habitat, and fish and wildlife. He is currently the Executive Director of Backcountry Hunters & Anglers, the sportsmen's voice for our wild pubic land, water and wildlife.. He hails from Missoula, MT with his wife Glenna, two crazy outdoor kids Cidney and Colin and labs Gabriel and Turk.