By Brenna Richardson
Some people would call it crazy. Maybe they're right. Getting up at 5 a.m. to fish in freezing temps in January is slightly insane. I really have no idea how cold it was, but a quick glimpse at the historical temps put it at 3.2 degrees (F). The website I looked at didn't include a wind-chill factor, but in the summer, wind gusts rip through South Park, Colorado at an average of 25 plus, mph! I think its safe to say, it was cold. Bitter cold. There was a truck that stopped and talked to my boyfriend when we were gearing up, "You are really going to fish in this weather?" When I stepped around the truck their eyes grew big, "There is a woman out here fishing in these temps!" You betcha!
My eyelashes froze, as did the corners of my eyes. My nose dripped from the cold, and yup, you got it, that froze too! The snow being blown up on my waders froze, and walking around in frozen waders isn't easy. I had layers upon layers and my walk resembled that of a penguin.
The fishing wasn't terrible either. We fished up stream, not wanting to stand in one place too long; we needed body heat! We both caught fish- rainbows, cutbows, and browns. Decent sized fish as well. Fish that certainly made you not second-guess your decision to be out in that weather. Once we hooked a fish, it was definitely a quick release, as we didn't dare put our hands in the water!
Around 2 o'clock we had walked all the way up the river and decided to head back to the truck, calling it quits. I threw my line a few times here and there as we walked back down stream. I came to a nice eddy and thought it looked fishy enough to throw a good cast. I threw one cast and literally had to dance on my toes to keep them somewhat warm. I let my line drift down. "I should get warmed up", I thought to myself. "I should just go to the truck." Nah, one more cast…just one more.
Whack!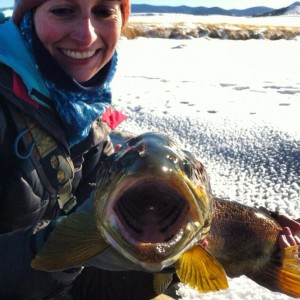 I wasn't ready for it. My fingers were icicles and it hurt to hold my rod. He ran me down stream, trying to hit the under-cut bank. My boyfriend was able to get a glimpse and all he said was "Holy crap! He's huge!" (Okay he used a different word, but you get the idea!) I admit, I was so cold that I had moments where I wanted to give up. I struggled to keep my rod tip up. He was strong, he was all over the river and I by this time I had lost feeling in my toes & I couldn't feel the line ripping through my fingers, off my reel.
I managed to keep him for the heading under the bank and as he switched direction, running me up stream this time, I saw it coming. I knew what he was planning and if I let him do what he wanted, I'd lose him. A fisherman's nightmare: a log. Sure enough, straight for the log he went. I figured I had two choices: horse him a bit to keep him away from the log and risk breaking him off, or, him jamming under the log and breaking me off. I chose to horse him a bit. Thankfully, my boyfriend was there with stellar netting skills. I won the battle. This time!
Yes, it might be insane to fish in 3 degrees, but a 23 and ½ inch brown trout trumps freezing! At the moment, I forgot about my purple fingers and smiled from ear to ear. He was beastly. He was beautiful. He was a Colorado Water Pig. Thus began my love affair with winter fishing. I have yet to catch anything bigger and that fish still brings the biggest smile to my face.
Brenna is a Montana native, currently living in Colorado with her 2 cats and 2 dogs. Oh yah, and her partner in crime, Andrew. She spends the majority of her free time fly fishing for trout, and most recently started fishing for carp. On days she cannot fish, Brenna runs a Facebook & blog called Rods, Reels, & Heels, with a hope that more women get involved in fly fishing. She is also an ambassador for Dizm Eyewear, Goat Head Sole Spikes and affiliated with H & H Outfitters and Cheeky Fly Fishing.